"GRIDS WITHOUT BORDERS"
Description: Math—Art—Physics combine to inform the works of Reginald Brooks. Most recently, the PRIMES and NO-PRIMES have been found to form a definitive pattern upon the same matrix grid (BIM) that also describes the Inverse Square Law and Primitive Pythagorean Triples. Go figure!
"PRIMES vs NO-PRIMES"
In this body of work, each individual acrylic painting is an interpretive reflection on the actual matrix grid (BBS-ISL Matrix = BIM) that reveals the NO-PRIMES pattern. The actual math – algebraic and algebraic geometry – is detailed in my just published "PRIMES vs NO-PRIMES" ebook (Apple Books: https://books.apple.com/us/book/id1464615631,
with the same contents freely available on my website: (http://www.brooksdesign-ps.net/Reginald_Brooks/Code/Html/MSST/TPISC/TPISC_IV_Details/SimplePathBIM-PRIMES.html).
Just google "Reginald Brooks primes vs no-primes" or go to Vimeo: //vimeo.com/333402758.
Order defines chaos – seemingly chaos.
The BIM grid expands to infinity, defining all of spacetime along the way!
~~~
Special Pricing for this show:
Any 5+ works: $850 each
Any 4—works $950 each
Any 3—works $1050 each
Any 2—works $1250 each
Any 1—-work $1500 each
GRID ID:
Row A: A1 A2 A3 A4 A5
Row B: B1 B2 B3 B4 B5
Row C: C1 C2 C3 C4 C5
Row D: D1 D2 D3 D4 D5
Order by GRID ID #. Email: inverse2ed@gmail.com
Orders processed in time-stamp order received.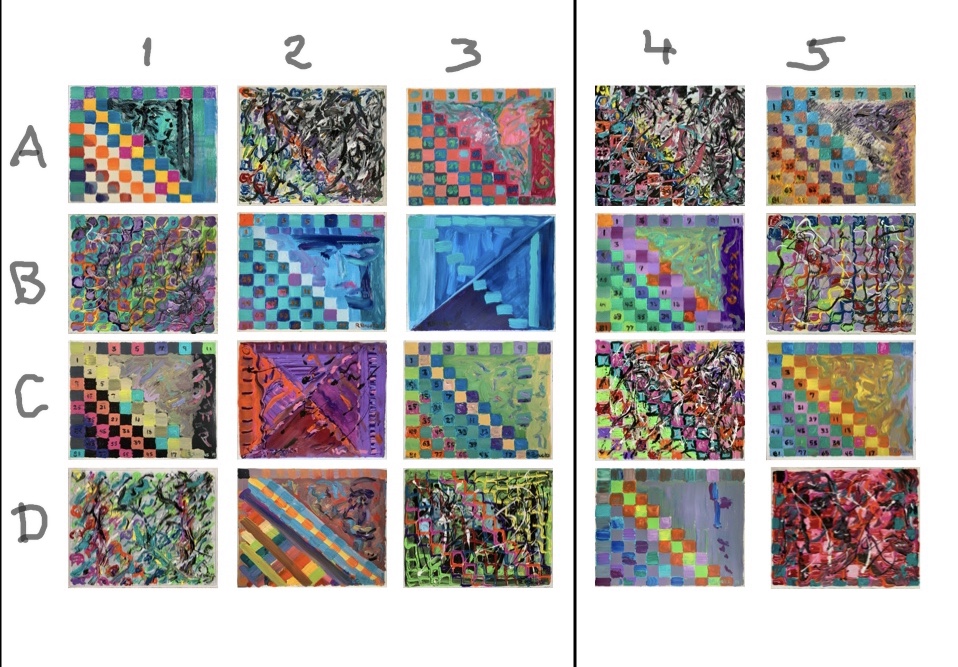 Thank you for taking a look!
Reginald Brooks
Portland, OR
..link to TPISC Media Center
Latest paintings...
.